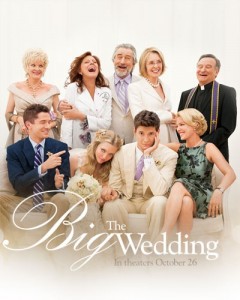 This coming October 26, 2012, The Big Wedding, an entertaining romantic comedy will be in theaters near you. What's to be excited about?
Directed by Justin Zackham (The Bucket List) and written by Zackham, Jean-Stephane Bron and Karine Sudan; The Big Wedding leads an all-star cast starring Robert De Niro, Katherin Heigl, Diane Keaton, Amanda Seyfried, Topher Grace, Ben Barnes with Susan Sarandon and Robin Williams.
It is about a delightfully modern family trying to endure a weekend wedding ceremony – a celebration that can potentially become a full blown family fiasco. Don (De Niro) and Ellie (Keaton), a long divorced couple, are forced to put on a play of being a happy couple when their adopted son's biological mother decided to attend the wedding.
During the whole wedding celebration, the Griffins are uproariously forced to meet head-on their past, present and their future – without killing each other in the process.
This is a great movie to watch with all the members of the family, most especially with your special someone. A fun movie that every one can relate too – the married, the newly-weds, the soon-to-be husband and wife and to the ones who wanted to propose soon!
Posted in
headwaters Her Wedding Planner
,
headwaters Wedding Movie
,
headwaters wedding themed movies
,
in the news
,
Marriage
,
Wedding
,
Wedding Movies
Tags:
headwaters wedding celebration
,
headwaters Wedding Movie